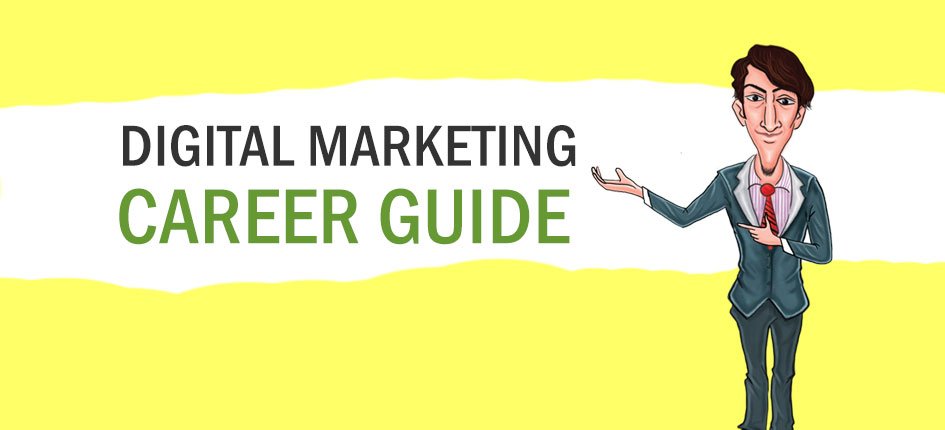 Interested in digital marketing and want to know how to start a career in digital marketing from scratch? Trying to find where to start?
You may be a fresher or a working professional who has heard a lot about this field. It's a bit overwhelming to get a direction. We have compiled a list of popular questions that people ask. Hope the below listed FAQs will help you get a clarity on the different aspects on online marketing as a career choice.
Does digital marketing career in India have a great future?
According to BusinessWorld, there will be 18,00,000 Digital marketing jobs available in India by 2020. And in 2018 December, Facebook has announced its plans to train 50,00,000 Indians with Digital skills to help small and medium businesses in the country. In 2019, smartphone companies alone plan to spend INR 330 crores in Digital marketing. Now you can safely calculate how big is the online media spend in India. In a recent data published by IAMAI, it is estimated that digital ad spend will overtake TV ads in just 2 years i.e. 2021. As per Livemint report, Digital ad industry to grow 32% to touch ₹24,920 crore by 2021. It is poised to contribute 29% of the total ad spend by 2021. Hence, the demand for good digital marketing courses that offer hands-on approach of teaching is really high these days. So, yes – digital marketing career in India is going to sky rocket in next couple of years.
Is it too late for me to start a career in digital marketing?
Perhaps this is the best time ever to get into digital ecosystem. In India, digital has set its initial footprint in last 5 years, and now have started to grow exponentially. According to Gregor Theisen – senior partner and managing partner of McKinsey Digital, there is a massive shortage of digital talents across the globe. And India, he thinks, has the great opportunity to fill the shortage due to its experience in outsourcing.
How is the job market in digital marketing in India?
As of today in 2019, there are close to 4-5 lakh job postings across popular job portals like Naukri, TimesJobs, Indeed, Linkedin. This is poised to become 3x bigger by end of 2020 according to the industry estimate. It is going to be a reality that every marketing team in any company will have a hub dedicated for online marketing. The future scope of the digital marketing industry lies in delivering a wide range of DX (Digital experience) to the end customers. And the range is really very wide. Clearly the demand for good digital marketing talent is much more than the current supply is.
What is the average salary structure in digital marketing?
A fresher can can start with a basic internship for 3-6 months, and then get 10K-15K monthly in a mid-level to a large company. A good certification will boost the salary range to 20-25K per month. With 2-4 years of experience in Digital marketing, one can earn 30-40K per month. People with 5+ years of experience in content / ppc / seo may draw anywhere near 5-10 lakhs p.a. The highest paying career path in digital marketing is to become a Digital manager, which gets to earn anywhere between 10-15 lakh per annum. To cut the story short, digital marketing really pays well in India.
How much a fresher can earn in digital marketing in India?
If you have a certification like Facebook blueprint / hubspot marketing / Google Adwords etc under your belt, then it is possible to get anywhere near 2-3 lakh p.a. In a digital agency / mid sized company. If you are an MBA fresher this can be further boosted by at least 30-40%. If you are a normal graduate then make sure you get a professional course and get yourself certified after the course is over. We strongly recommend that you do a minimum 3-6 months internship with any Digital agency to start your career in digital marketing.
Are 3-month / short duration digital marketing courses enough to get good jobs?
We strongly advise that you get a couple of reputed certifications from facebook / Google / Hubspot / Hootsuite / Linkedin after doing a professional course in digital marketing. Then apply for an internship in any digital agency for 3-6 months. Work very hard this period to apply whatever you have learnt so far. Follow these and you will have a very rewarding career in digital.
Is a digital marketing career good for girls?
In our agency experience for over a decade, we have seen that girls are doing very well in this field. The numbers are growing. In our agency the male – female ratio is approx 50-50 today. So, the answer is a big YES. On a side note, we have seen that girls do well in digital manager / client servicing / long form content writing roles.
How should anybody boost their Digital Marketing career?
Here's what we advise regarding the career planning in digital marketing. If you are already working in this field then it is advisable that you expand your expertise to at least one more category closer to your existing skills. For example, if you are working in SEO then build your skills around PPC and learn a bit of coding to develop websites. At the same time, invest your time to learn the marketing concepts, strategies etc to develop a holistic understanding of the digital transformational journey. The idea is to become a T-shaped marketer, where you have a holistic wide understanding of digital marketing (the horizontal line in T), couple with a deep expertise in 2-3 categories (the vertical line in T). For this to happen you should enroll for a short digital marketing course which teaches you the strategy / frameworks / concepts.
How will be the career growth in digital marketing in India?
You must aim to become a T-shaped marketer or growth hacker eventually. That's the ideal career progression in Digital marketing. So, you start with a specific skill set like content writing / SEO / PPC etc and then expand the expertise to a few more closer categories in 3-4 years. Example if you have started with SEO writing then get into the copywriting etc. Go deep into these buckets to become an expert. Develop a wide and holistic understanding of other categories of digital marketing.
Should digital marketers learn to code?
We believe that the ultimate convergence of a digital marketing career is into becoming a true growth hacker where you can devise out of the box strategies to achieve X times growth for your business / organization. In order to do so, it is important for you to have a good understanding of different buckets of digital marketing – content, SEO, PPC, Email, Social Media, Market place, Media buying, Programmatic etc; and a deep expertise in 2-3 categories i.e. your digital marketing specialization – to be like a T-shaped marketer. YES, the ability to code, or a concept level understanding of web / app development will help you to make your case even stronger. It is recommended to learn at least CSS, html, javascript if you want to become really successful in digital marketing career.
I am a content writer, do I have a scope in digital marketing?
Yes, ofcourse. The core strength in the field of digital marketing today is the CONTENT in various form. Be it writing the website content, SEO articles, newsletters, press releases, AD copies, video scripts, blogs, or podcasts – the scope of content in digital marketing is really very wide. So, if you can write well and write fast, and have a good ability to do online research, solid comprehension capabilities then digital marketing is really for you.
What skills are needed to be a digital marketing professional?
There are no prerequisites for getting into digital marketing career. People from any streams can get into digital. We know several people who went to become a successful digital marketing experts after leaving IT, army, consulting jobs. Students from engineering and MBA are increasingly joining digital marketing industry.  But, it is really important to have a digital mindset and a passion for marketing to do well in this field of work. Also, if you are not agile as a person and not comfortable to learn new things frequently, then think again. Digital marketing is really diverse and fast changing. What works today can become totally obsolete tomorrow. Algorithms rule this field like no other fields do. You must have the agility and grasping power to adopt into the world of digital.
Should I do an MBA or a course in digital marketing?
There is no right or wrong for this. What you should be doing is to have an pursue MBA in Marketing and in parallel develop your skills in digital marketing by enrolling into a 3-6 month professional course in digital marketing. This combination will give a HUGE boost to your career as you are most likely to get better placement and salary. Every company these days is looking for skilled digital talent for their organization, and having such a lethal combination of skills will simply make them gaga on you.
I have started my own business; will it help to learn digital marketing?
Ohhh yes! Digital marketing knowledge is a must have for an entrepreneur like you. For you it's really important to develop a holistic understanding of how digital marketing works. You must learn how to research on your audience / customers; identify topics for creating content; write effective content; do a basic level of SEO, blast emailers, and run PPC Ads on your own. At the initial stage of your business you must dabble in online marketing. As you grow, you can hire a professional agency. Having hands-on knowledge will help you track the efficacy of digital marketing campaigns run by your agency.
Is digital marketing can be learnt by housewives like me?
Why not! Women like you are leveraging social media today to do decent business on the side. You should enroll for a short course which teaches you the nitty-gritties of social media marketing. After that you can seriously explore business opportunities around your passion i.e. fashion, cooking, design and what not!
How can I be a digital marketing specialist from scratch / with no experience?
It is widely believed that digital marketing can not be taught. It is true that the industry professionals are not the best teachers and the B-school faculty is far removed from the digital practices. The short term certification / professional courses exist. And you must choose one that will teach you with practical hands-on approach. Best part of learning comes from the job, and you must apply for an internship with digital agencies to move your career to become a digital marketing specialist.
Online course or classrooms – which are better for learning digital marketing?
Too many online courses in Digital Marketing exist today. But industry experts strongly believe that purely online courses are not very effective in mastering digital marketing. And the courses and online certifications offered by platforms like Facebook / Google help you in adding some sunshine on your CV. But to truly learn digital practices, you must go for extensive practical training which you can be done through classroom training. There are many options available today – weekend only, weekday only, evening only classes that offer digital marketing training. But it so important that you do an internship with any digital agency after the course. That's the period when you truly become a digital marketing professional.
Is a career in digital marketing overrated?
Overrated? It's underrated. Let's be honest here – no one WANTS to start a career in B2B marketing. People want to fly aeroplanes or be a professional gamer. B2B Marketing? Not so much. They just… get into the field. But think about it – that professional dancer you love watching? Yeah, she gets the spotlight because someone's marketing her.
What are the pros and cons to a career in digital marketing?
Pros – Unlimited opportunities (no BS), loads of scope to learn, and a LOT of flexibility in terms of location, timings and verticals.
Cons – Immense work pressure, low initial pay scales, and in some countries sexual harassment.
But then again, these cons apply for literally every field. The pros do not.
Does digital marketing have a long-lasting career growth?
Yes. Every company is getting into digital marketing. Even print media companies have set up their own web presence. The power of digital marketing lies in the fact that location and geographical boundaries make no difference at all. So, there is never any dearth of clients and long-lasting career growth is entirely up to the choices you make in your professional life.
Is a digital marketing course useful for career growth?
Digital marketing courses are a dime a dozen these days. How useful they are depends mostly on how you apply the knowledge. A couple of years ago, only service professionals knew what SEO meant. Nowadays, even school kids are becoming aware of it – not just as a field of study, but a valid career path as well. Marketing and sales are two profiles that directly benefit from digital marketing knowhow. But soon, virtually every profile will require you to have some knowledge of digital marketing.
What attracted you to the digital marketing industry?
I know someone who started off as a freelance content writer. Truthfully speaking, writing was the only thing he has ever been any good at. Like they say, "He who has no gold in his pocket, must have silver on his tongue." He had no money in his pockets. But as he kept reading and writing more and more, he became painfully aware of his limitations as a writer and started exploring different things in digital marketing. Eventually, he started dealing with digital marketing strategy strategy and became better at it.
What are the trending jobs in digital marketing?
Based on a search on Google Trends, "Digital Marketing Executive" and "Social Media Optimization Expert" are the two most trending job roles in digital marketing today. On a personal note, content creation is the first prerequisite of digital marketing. So, any job role associated with creating content is also much in demand.
How to easily get a digital marketing job in India?
Easy is a relative term. Almost every single business that is serious about their business growth is looking to grow their presence using digital marketing. While there is a lot of scope for a lucrative career trajectory, there is also some serious competition to consider. Most companies hire digital marketing executives based on their experience. Make sure you study the company in details before your interview. Share your observations – anything that you feel like regarding their current marketing channels be it their social media strategies or website issues. Your proactiveness will catch their attention!
Can I get a digital marketing job without any experience?
Yes, you can. There are many agencies that take on digital marketing interns. These internships are the simplest way to gain more experience and prepare for more demanding job roles. Of course, there are companies that offer you serious posts without any prior experience. But these are not companies that you want to work for.
How to get hired in digital marketing?
Well, it's like any other job – print out a CV and start cold calling or cold emailing. A more sophisticated way is to check out job listings on LinkedIn, Naukri, MonsterJobs, and other such platforms. Most of the digital marketing courses in India will offer you internships to get the ball rolling. The best way to go about it, though, is to create a website and show people what you can really do. Think about it – if you are looking for an SEO job and you have an SEO blog with a 'Hire Me' page that ranks well, chances are that you will get a much more serious consideration than most other candidates.
How should anybody boost their Digital Marketing career?
There are a couple of ways a digital marketer can improve their career graph:
– Refine Your Skillset
– Keep Up With the Recent Trends
– Create Your Own Digital Presence
– Ask for Recommendations
– Ask for Feedback
– Network with Your Peers
– Understand and Interpret Data
Is it really difficult to learn digital marketing?
Difficult is not the right way to look at digital marketing. The biggest consideration there is time and patience. How much effort you put in plays a huge role in learning. With the help of the right courses and exposure, there is no reason why anyone can't learn and excel at online marketing field.
Honestly, the only thing you need is the willingness to learn. A background in content writing and marketing may be useful. Seeing as digital marketing is essentially marketing on digital channels, having a clear idea of marketing is a good thing. But it's not really a mandate.
You need to do a lot of experiements to learn at depth. Getting into an internship early after doing your course will help you a lot to gain the practical insights.
How useful are online digital marketing courses?
Depending on the course, either very useful or absolutely useless. Most digital marketing courses will give a theoretical approach to some very rudimentary concepts. That sort of rubbish is absolutely useless. You could easily find the same things on blogs my 'marketing gurus'. However, if you can get into a course that allows you to learn by working on live projects, then it is really worth it.
To select the best digital marketing course, you must understand the value proposition behind the course. What are they really selling you? Is it time with an expert? Is it live project experience? What do you stand to gain from it? The next thing to do is to ask ex-students personally for their opinions on the course. The last consideration should be your budget. It makes no sense to spend 10 bucks, and waste it instead of spending 100 bucks and getting a 10x on your ROI.
What qualifications are needed for digital marketing jobs?
Most digital marketing agencies value experience. So, one of the simplest ways to get hired is to build a website and learn by doing it yourself. A slightly easier path is to take up a course in digital marketing and then go for a job. Note that the online available courses are good if you have some bbackground in marketing – or else they are not very easy to internalize. Most digital marketing courses have placement options with different agencies. If you are unsure as to where you should begin, we'd suggest doing a vocational course. Having Google / Hubspot / Facebook blueprint ceritifications will be immensely valuable too.
Is digital marketing useful for an MBA??
You don't need to know digital marketing to boost your MBA degree unless the core focus of the MBA is marketing. That being said, the other streams like HR / Finance etc also now employ various digital practices. So it may be a good idea to get your hands on Digital Marketing these days. Most MBA degrees are quite focused on theory. The best way to go about it would be to take a vocational course on digital marketing along side your MBA classes. Make sure that you cover all the basics – SEO, PPC, SMM, and Content Marketing, and take up a live project for practice. The expeirence will be a great boost to your confidence and edge while looking for placements.
Why should I choose digital marketing as a career after MBA?
Are you passionate about marketing / advertising? Are you creative? Do you have an analytical bend of mind? If so, then digital marketing may be one of THE best options for you after the MBA. You can join a good Ad Agency as a Client Servicing Manager or a Business Development Manager. In a non-agency business, you can join as a Digital Marketing Manager reporting to the marketing head.
What is the future scope of a BBA in digital marketing?
BBA as an educational degree is usually a segue into an MBA degree. Now, you can go for the long route and do an MBA and then do a digital marketing course, or you can get an MBA degree in digital marketing, or you can just pursue a vocational course in digital marketing. In any case, digital marketing is quite a lucrative career, especially if you have a background in marketing. So, realistically speaking, the scope is immense.
Digital Marketing has the luxury of ENDURANCE in the job market!